Providing a wide variety of Carlsbad HVAC contractor and home services to homes and businesses throughout San Diego County
HVAC Carlsbad CA Experts: Trusted AC Repair and Installation Services
First Service Pros is a premier provider of top-notch HVAC and home services to residents and businesses in Carlsbad, California, and the surrounding areas. With over a decade of experience in the industry, our team of highly skilled technicians has the expertise and knowledge to handle all of your HVAC Carlsbad CA service needs, from routine maintenance to complex installations and repairs. 
As a part of the San Diego metropolitan area, Carlsbad is known for its beautiful beaches, thriving business community, and vibrant cultural scene. At First Service Pros, we are proud to serve this dynamic community with our exceptional customer service and reliable solutions, ensuring that your home or business is always comfortable and well-maintained.
We offer a wide range of HVAC and home services in Carlsbad CA to meet all your home needs. We provide top-notch repair and installation services for all types of HVAC and heating and cooling systems. 
With years of experience in the industry, we provide excellent technical assistance to ensure your HVAC system runs smoothly and efficiently also offering excellent plumbing and electrician service solutions throughout the San Diego County.
By calling for a Carlsbad AC service or maintenance, you're not only keeping your HVAC unit running smoothly, but you're also helping save money:
Reducing monthly energy costs
Boosting the lifespan of your heating system
Minimizing the need for repairs
Cleaning your unit less frequently
Fast, Reliable Heating Maintenance
We are committed to providing reliable, professional and affordable services for Carlsbad HVAC repair. Our team is experienced, highly trained and knowledgeable in all types of heating, ventilation and air conditioning systems so that we can ensure the best possible service for our customers. Our team of highly trained professionals have years of experience providing reliable, professional, and affordable services for all your air conditioning, heating, ventilation, and refrigeration needs. We offer free quotes on our services to ensure you get the best value possible. Contact us today to schedule an appointment with one of our friendly experts!
Quality Air Conditioning Repair Carlsbad CA
Your Carlsbad Air Conditioning & Home Services Tune-Up Team

We at First Service Pros are here to help you with all of your air conditioning service needs! We know how important it is to have reliable and efficient AC, so we strive to provide our customers with trustworthy services for air conditioning repair Carlsbad. Our team works hard to make sure that your air conditioner runs smoothly and efficiently, ensuring that you stay comfortable in your home or business. With our expertise and experience, you can count on us to get the job done right!
Reliable air conditioning service Carlsbad CA: Years of Experience
Dedicated: Trusted Professionals
Affordable: Competitive Pricing
Reliable: 24/7 Service
Local: Proudly Owned & Operated
HVAC Carlsbad CA Services
Heating & Furnace Repair Carlsbad CA Features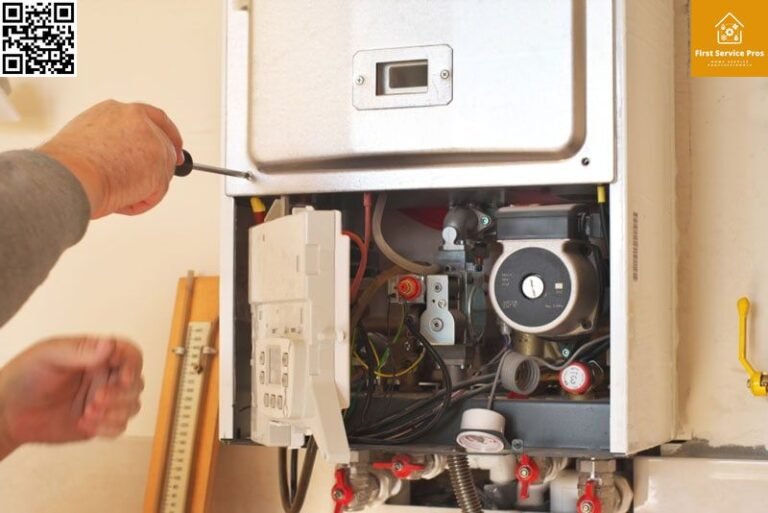 Your Heating  & Home Services Tune-Up Team
At First Service Pros, we pride ourselves in offering top-tier heating maintenance, Carlsbad AC repair and home services.
Whether you're dealing with a heater that won't turn off or a clogged air filter, our dedicated experts can get to the root of the problem without wasting any time. As one of the biggest residential HVAC company, we're committed to providing fair, high-quality service to our clients.
You can trust our technicians, who have many years of collective experience in the industry, to do an exceptional job every time.
We understand how important it is to have reliable and professional HVAC service. That's why we offer the highest quality services at an affordable rate. Our team has years of experience and are fully trained professionals who can provide you with free quotes. Plus, we're locally owned and operated so you know your money is staying in the community. So when you need high-quality HVAC services, trust us here at First Service Pros!
Whether you need a new installation or repair work on existing units, our technicians can diagnose any issues quickly and offer solutions tailored to your specific needs. We'll also provide regular maintenance checks to make sure your equipment is running efficiently and safely.
Investing in quality heating and cooling for your home can save you money in the long run by using less energy and avoiding costly repairs later down the line. Plus, having reliable temperature regulation will keep everyone in your household feeling safe and content year round.
Frequently Asked Questions About HVAC​
What kind of HVAC services do you offer
We offer a variety of HVAC services, including installation, repair, maintenance, and replacement
How often should I have my HVAC serviced?
We recommend having your HVAC serviced every six months to keep it running at its best.
What can I do to keep my HVAC running efficiently?
You can help your HVAC run efficiently by changing the filter regularly, keeping the area surrounding the unit clear, and having it serviced periodically.
How quickly can you come out to my home for an HVAC repair?
We can usually have a technician out to your home within 24 hours for an HVAC repair in Carlsbad.
Do you offer any guarantees on your HVAC services?
Yes, we offer a satisfaction guarantee on all of our HVAC services.
What types of heating and cooling services do you provide?
We provide installation, repairs, maintenance, and replacement services for both residential and commercial air conditioning systems.
HVAC and Home Services Maintenance Contractors
Don't take a chance on your HVAC system this spring and summer. To schedule an air conditioning repair or tune-up that you can trust, give us a call today! 
San Diego County Service Area
Also providing services in Oceanside, Oceana, Camp Pendleton South, Vista, Stuart, Encinitas, San Marcos, Las Flores, Camp Pendleton North, Richland, Solana Beach, Escondido, Fallbrook, University City, Poway, Miramar, Rincon, Temecula, Rosemont, Murrieta and the surrounding areas in San Diego County
First Service Pros offer fast, reliable home services for installation or repair, hvac,  electrician and plumbing services. 
Our technicians have long experience of dealing with most common home services issues so they can save you time and money diagnosing problems and issues before they become a major concern for you.
With our wide range of home service professionals our teams can manage all your home service repair and installation needs.
© 2023 By First Service Pros
DISCLAIMER
This site is designed to assist homeowners in connecting with local home service contractors. All home service contractors are independent and this site does not warrant or guarantee any work performed. It is the responsibility of the homeowner to verify that the hired home service contractor furnishes the necessary license and insurance required for the work being performed. All persons depicted in a photo or video may be actors or models and not contractors listed on this site.