Providing a wide variety of HVAC contractor and home services to homes and businesses throughout San Diego
Air Conditioning Service San Diego: Expert Air Conditioning and Heating Repair Services or Installations!
Welcome to First Service Pros, the ultimate destination for all your air conditioning repair needs in San Diego and beyond. Our team of expert technicians specializes in HVAC services, ensuring that your AC unit functions flawlessly, especially during scorching California summers. With our top-notch AC repairs, maintenance and air conditioning service San Diego, you can trust us to keep your system running smoothly. Finding a reliable company for AC repair in San Diego can be daunting. That's why we are dedicated to providing you with exceptional service every single time. We take pride in our friendly and attentive approach, guaranteeing personalized attention from start to finish. Whether you require emergency repairs or routine maintenance for your AC unit or heating system, we have got you covered. Equipped with cutting-edge tools and stocked with major brands like Moss and Split pumps, our technicians swiftly handle any issue that arises. 

At First Service Pros, we understand why customers choose us over other companies in the area. From energy-efficient installations to solar-powered options – everything is available under one roof! Don't just take our word for it; check out the rave reviews on Yelp! If you're seeking trustworthy air conditioning repair services in San Diego or nearby areas like Chula Vista or La Mesa – look no further than First Service Pros! Contact us today for unparalleled assistance.
Common Air Conditioning Problems
As air conditioning repair experts, we know all the common problems that can happen with AC units. From refrigerant leaks to faulty wiring and compressor failure, there are a variety of issues that need professional attention. Clogged filters, frozen coils, and malfunctioning thermostats can also make your unit underperform or stop working completely. At First Service Pros, our team has extensive experience diagnosing and fixing all types of AC problems. We use cutting-edge tools to quickly identify the root cause and provide tailored solutions for optimal performance.
Whether you need maintenance, repairs, or installation services for your HVAC system or central heating unit, our trained technicians have got you covered. We pride ourselves on being trustworthy professionals who prioritize customer satisfaction above all else. Our service trucks carry major brands of parts so we can fix anything from minor leaks to major breakdowns on the spot. Plus, our online reviews speak volumes about our fantastic service!
If you're having any issues with your air conditioner in San Diego or nearby areas like Chula Vista California or Moss Spring Valley – call us today! We offer same-day appointments because we understand how important it is to stay cool during those hot summer months. Don't wait until it's too late – book an appointment now before things get worse!
Services Offered by Air Conditioning Repair Companies
If you're a homeowner or business owner in San Diego , finding trustworthy air conditioning repair services is a huge relief. Luckily, there are fantastic options nearby. Here's what you need to know about the top-notch AC repair companies: Installation: Expert technicians will help you choose and install the best air system for your needs.
Maintenance: Trained professionals offer comprehensive plans to keep your HVAC system running smoothly.
Emergency Repairs: Trustworthy companies provide 24/7 emergency services to quickly restore comfort.

Call us today for experienced technicians who use state-of-the-art tools and equipment. We pride ourselves on offering comprehensive air conditioning solutions including installations, maintenance, and emergency repairs. Whether it's February or August, we'll always be here for you at First Service Pros!
HVAC Services in San Diego
Heating & Furnace Repair San Diego CA Features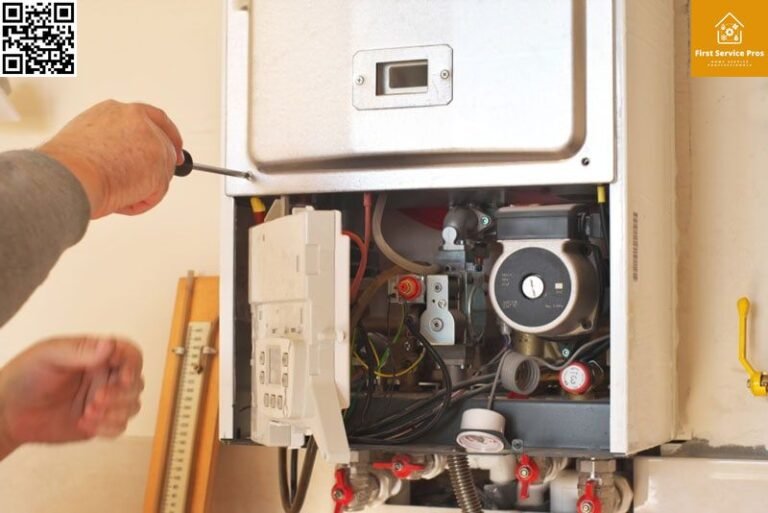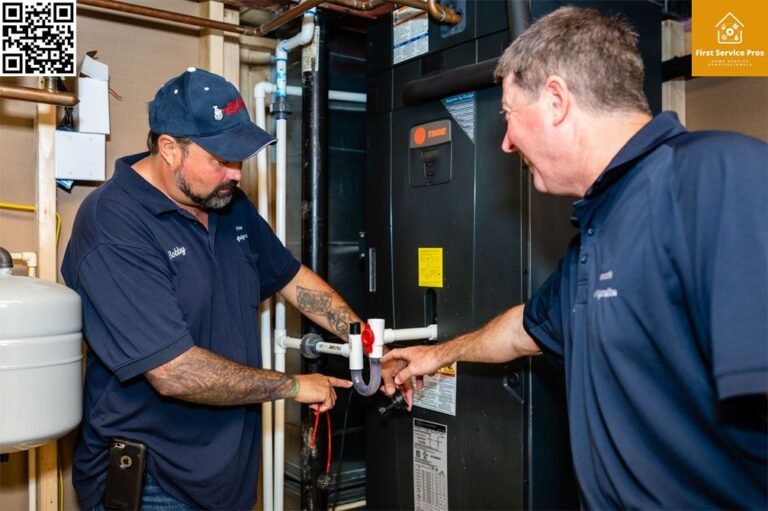 DIY Maintenance Tips for Your AC Unit
To ensure your air conditioning unit runs smoothly and efficiently, regular maintenance is crucial. While major repairs should be left to professionals, there are simple steps homeowners can take between visits to keep their units in top shape. As experts in AC repair services in San Diego, we have firsthand experience with these tips and tricks. Here are some DIY maintenance tips for your AC unit:
Clean or replace filters regularly: Dirty filters reduce efficiency and make your air conditioner work harder than necessary. Check them monthly and clean or replace as needed.
Clear outdoor units of debris: Leaves, dirt, and other debris can build up around the outdoor unit over time, decreasing its efficiency. Regularly clear away any debris.
Monitor refrigerant levels: Low refrigerant levels can result in warm air instead of cool blowing out from your AC system. If you notice this issue, call an expert service provider immediately.
Inspect wiring connections: Loose or damaged wiring connections can be dangerous and impact performance over time. Regularly check all wiring connections to ensure they're secure.

By following these simple tips, you'll extend the life of your AC system while keeping it running at peak performance – saving money on energy costs along the way! Please note that while DIY maintenance is important for routine tasks only – always consult with an experienced technician if you suspect something beyond basic needs. As local technicians servicing top brands like Trane, Lennox, Rheem, Goodman, Bryant and Carrier, we understand how crucial trust is for our customers when it comes to HVAC installation, heating, cooling and heater installations or air conditioning service and repair in San Diego, California area (and the surrounding areas). 

We pride ourselves on being trustworthy professionals who provide exceptional customer service through courteous interactions with our clients! In conclusion, we hope these tips have been helpful in maintaining your AC unit. If you need any repairs or servicing done on your air conditioning system, don't hesitate to call us today! We are the top-rated HVAC repair service provider in San Diego and Chula Vista areas with outstanding online reviews – so you can trust us to get the job done right!
When it comes to looking to find air conditioning repair services in San Diego, cost is always a major concern for homeowners. As experts in the field, we understand that repair costs can vary based on factors like the age and type of your AC unit, the extent of the damage or problem, and whether emergency services are needed. The size and type of your air conditioning system also play a crucial role in determining repair costs. Larger units often require more extensive repairs, leading to significantly higher expenses.
Furthermore, older systems may be pricier to fix due to outdated technology or lack of available replacement parts. Another important consideration when evaluating repair costs is whether you choose professional service or attempt DIY repairs. While DIY solutions may seem cost-effective initially, they often end up costing more in the long run if not done correctly.
For accurate estimates on heating and air conditioning services tailored to your specific situation, we recommend contacting a reputable air conditioning repair company with experience servicing all types of HVAC systems. They will assess your needs and provide an estimate considering factors such as heating issues or cooling problems. Regular maintenance is worth noting as it helps prevent costly repairs by catching potential issues early on.
By investing in routine maintenance from our trusted local business serving Chula Vista California and surrounding areas, you can keep your AC unit running smoothly year-round while avoiding unexpected expenses. 
HVAC and Home Services Maintenance Contractors
Don't take a chance on your heating system this fall and winter. To schedule an air conditioning repair or tune-up that you can trust, give us a call today! 
Our team takes pride in providing trustworthy service using energy-efficient tools mounted on our trucks. We understand how much joy it brings homeowners when their heaters are quickly fixed during cold winter months or efficiently cooled during hot spring days. In conclusion, while cost should be considered for air conditioning repair in San Diego CA, don't sacrifice quality or reliability for affordability alone. Trustworthy service providers like us offer efficient repairs with major brands such as Trane, Lennox, Rheem, Goodman, Bryant and Carrier, ensuring quick and effective fixes without breaking the bank. Book an appointment today to address any leaks or issues with your AC unit!
San Diego County Service Area
Also providing services in South Park, Stockton, Coronado, Mount Hope, University Heights, Lincoln Park, Roseville, Chula Vista, Lomita, Bonita, La Presa, La Mesa, University City, Palm City, Eastlake, Miramar, El Cajon, Rancho San Diego, Santee, Hillsdale and the surrounding areas in San Diego County
First Service Pros offer fast, reliable home services for installation or repair, hvac,  electrician and plumbing services. 
Our technicians have long experience of dealing with most common home services issues so they can save you time and money diagnosing problems and issues before they become a major concern for you.
With our wide range of home service professionals our teams can manage all your home service repair and installation needs.
© 2023 By First Service Pros
DISCLAIMER
This site is designed to assist homeowners in connecting with local home service contractors. All home service contractors are independent and this site does not warrant or guarantee any work performed. It is the responsibility of the homeowner to verify that the hired home service contractor furnishes the necessary license and insurance required for the work being performed. All persons depicted in a photo or video may be actors or models and not contractors listed on this site.